10 Oct

COASTEERING ADVENTURE

We've been looking forward to this day all week. Today will be our very first coasteering trip. We had heard about this sport before, but never knew that the activity could also be done on Madeira. But hey, why not? Madeira seems perfect for this activity! Being such canyoning addicts, this was something we just had to try. Because: cliff jumping, swimming, climbing….these are all activities we enjoy! So here we are, on our first coasteering experience guided by Discovery Island Madeira. 
COASTEERING LOCATION: PONTA DE SÃO LOURENÇO
We start the day on the parking lot at Ponta de São Lourenço. Of course we are not alone, we put on our wetsuits under the curious eyes of the many visitors of the walking trail. Having walked the Ponta de São Lourenço trail several times ourselves, we already know that this is a beautiful area and we're very eager to get started. We're off!
While walking to the start of the coasteering we get acquainted with our guides Sandro and Luiz. They couldn't have send us better guides: these guys are fun, friendly and passionate about coasteering and Madeira nature. We follow the road for a short while and then get off the beaten path. Scrambling down the cliffs we soon end up at a high cliff: the start of the coasteering. This is also our first jump. 
SCRAMBLING ALONG THE CLIFFS
From here we alternately swim or scramble and climb along the cliffs. Most of the time we climb vertically, crossing the cliffs and moving along the coastline. It's a great experience to climb these rocks: it's very active and at the same time I just can't take my eyes off the beautiful area we are in. Talking about an adrenaline inducing activity!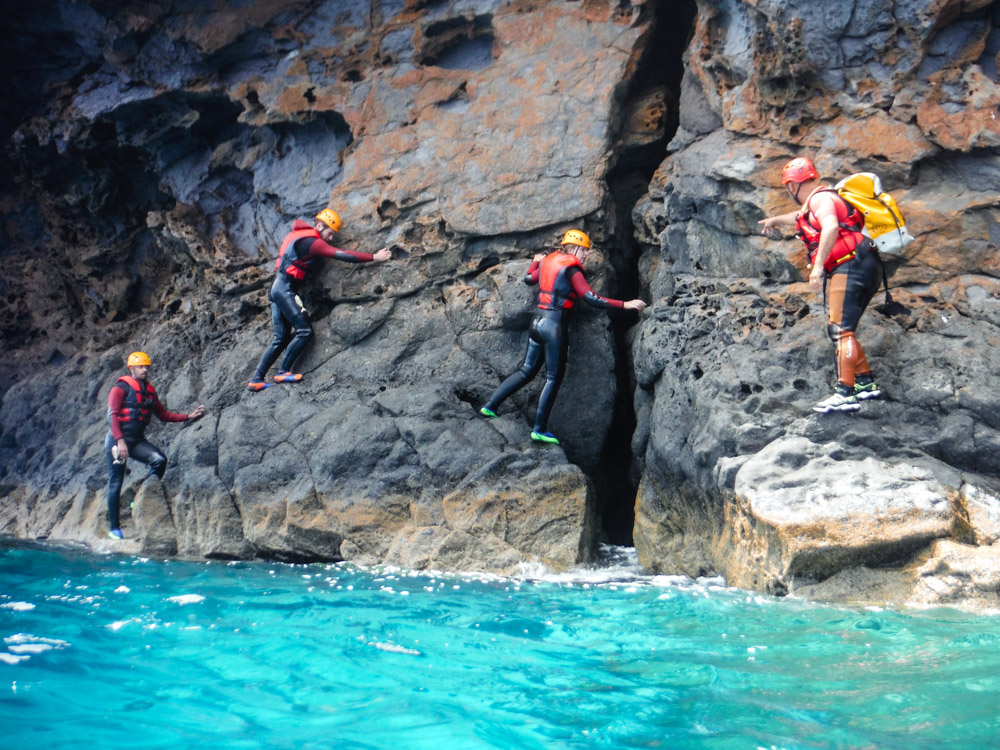 SWIMMING OR FLOATING
We swim a bit, which is actually quite hard, wearing a wetsuit, life jacket and helmet. While I feel like a little mountain goat on the cliffs, in the water I feel like a beached whale. I'm flopping my arms but not getting ahead as fast as I would like. So I just give in to not being able to actually swim and instead I float. That's much better. 

[/vc_column_text]
A bit further on the coast we get to a small cove. Here we make two great cliffs jumps. One from the coastal cliff and one from a large rock reaching out of the ocean a few meters from the coast.
JUMPS AND MORE JUMPS
There are a lot of jumps on this coastline! The highest ones are around 15 meters. Sandro and Luiz keep pointing out that it's ok to take our time and do a jump a second time if we want to. We happily accept the challenge. 
After a short break we enter the water with goggles and snorkel. It's time to explore the underwater world. While snorkling and swimming we cross a large bay and we explore a cave. Close to the coast and rocks are lots of fish. And because the water is so clear here, you are able to look far beneath and around you.
Credits to Sandro's skills of persuasion. He is a smooth talker and got us to pose for this very charming photo with our goggles on. 
After almost three hours of jumping, swimming, climbing and snorkling, we are almost at the end of the coasteering. We jump one last cliff and then climb back up the cliffs to get to stable grounds and dry clothing.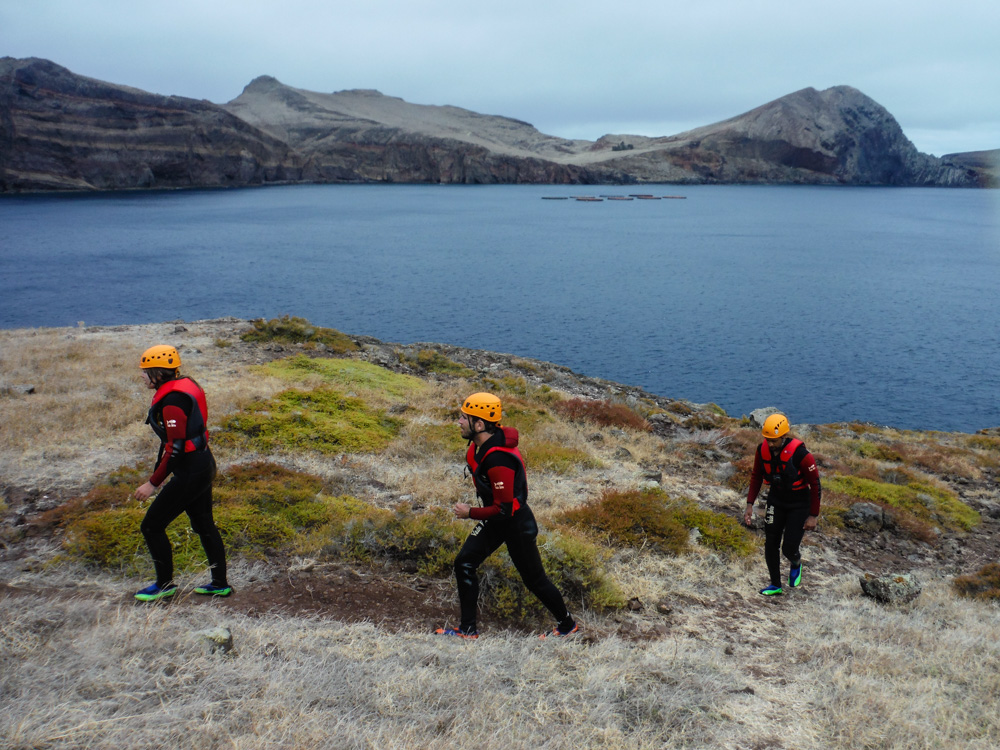 FIRST TIME COASTEERING: CONCLUSION
I have loved every second of this day. Coasteering is a perfect combination of fun, adrenaline kicks, pushing yourself physically and mentally and all the while enjoying the best vista's the island has to offer. I already enjoyed the Ponta de Sao Lourenco area very much when hiking the trail on the cliffs above us. But being down here, in the water, on the rocks, it's totally different and even more impressive. This certainly won't be my last experience with coasteering. Will definitely do this again! 
DISCOVERY ISLAND MADEIRA
These guides really made an already impressive activity so much fun. Sandro and Luiz were making a lot of jokes, while at the same time being very observant of our safety and comfort. They also brought their own camera, taking even more photo's than I did. The photos were send the next day, very nice service! Take a look at Discovery Island Madeira's website, they also offer lots of other outdoor activities. 
This activity was courtesy of Madeira Outdoor, but the opinions expressed are entirely my own. Thank you Madeira Outdoor, for organizing this great experience for us. We had a perfect day!