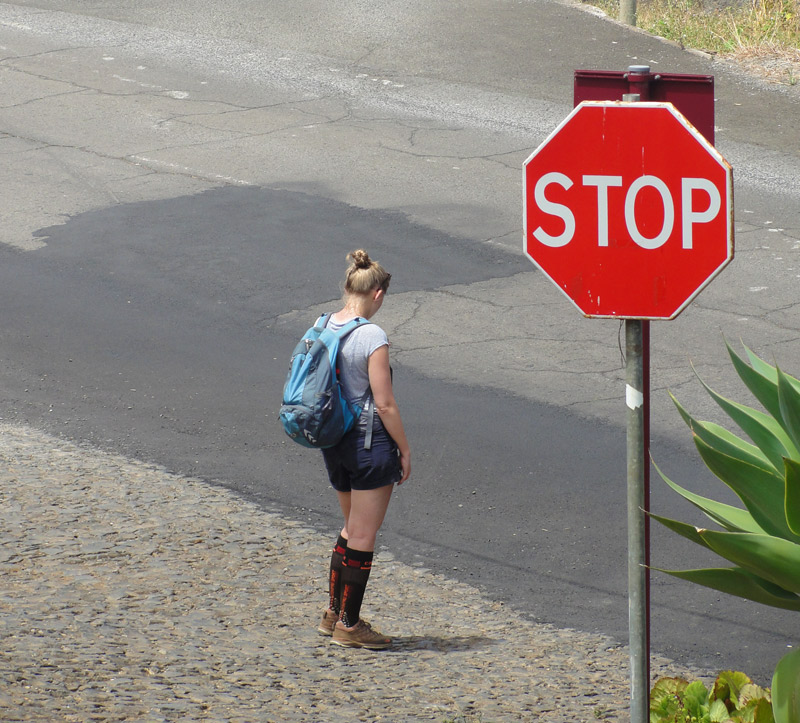 31 Jul

SAFETY FIRST! SOME TIPS FOR MADEIRA WALKS

At the risk of sounding like a bore, we will tell you something about safety during the walks. Please don't underestimate Madeira walking trails. Sadly, (fatal) accidents happen every year. So, safety first!
OUR SAFETY TIPS FOR MADEIRA WALKS
Check the conditions of the trails. Sometimes trails will be closed due to maintenance or landslides. You can check the state of the official walks of Madeira's Tourist Office here. In addition to not being safe, it's not much fun either when after trudging down a steep hill for 1,5h, you have to turn around and trudge up the same steep hill without having seen the reward for this trudging (the enormous waterfalls at the foot of the hill). In our case, landslides had destroyed the path and cranes were working on rebuilding it.
Use a guide, for instance: a walking guide book (like Sunflower Guide), a walking map (for sale at book stores) or a GPS track (on your GPS device or phone). Personal advice: after using both guide books and a GPS device for several years, I definitely choose the GPS device. Really: nothing is more frustrating than a guide book that says "to turn right at the garden with the large palm tree"…… This got me really frustrated….There are quite a lot ofer gardens with large palm trees on Madeira.
Start your vacation with some of the light walks, to adjust to the climate, walks and levadas. During our first walk ever on Madeira we took a wrong turn and ended up on a trail described as dangerous and inadvisable by our guide books. Not a very relaxing start of your vacation! For some of the best walks of the island, take a look here.
Don't go out walking alone in remote areas. If something would go wrong on such a walk, it would be very difficult to get help.
Make sure you have the right equipment. Especially important are walking shoes with a good grip. Some paths are slippery or incredibly steep and consisting of loos rubble. I am not kidding: I have seen tourists walking on flip flops or even heels (!!!) on a walk. People: it is not a stroll in the park!
The weather on Madeira can be very fickle, especially in the mountains. Bring some clothing with you, even when you it's 30 degrees Celsius when starting the walk ;-). Better safe than sorry. It really can get very cold in the mountains.
Another essential part of your Madeira walking gear: flashlights for the tunnels! You'll probably get through a 10 meter tunnel without. But walking (more like crawling in some tunnels) for 15 minutes in complete darkness is quite another story. I use a flashlight on a headband, so I'll have my hands free.
Some walks are only a very narrow path next to a steep drop. This path is usually secured by railings, but these are not made to support much weight and I doubt they would keep you on the path if you would fall against it. Use your common sense here. Sometimes I see people hanging over these railings, just to take the perfect picture….not so smart.
Bring enough food and drinks (no poncha ;-))