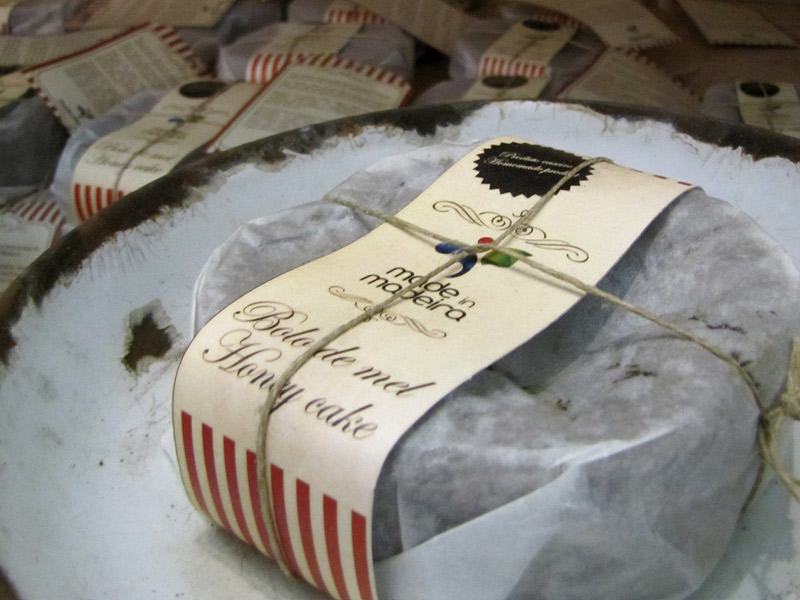 01 Jul

BOLO DE MEL: MADEIRA HONEY CAKE

The Portuguese have a sweet tooth. On Madeira you'll find countless little bakery shops and all these shops have windows chock-full pastries and cakes. One of Madeira's oldest delicacies is 'bolo de mel de cana' or 'honey cake'. This cake is traditionally made with Christmas, but you can buy it all year round. Traditionally, when people make this cake for Christmas, they'll make enough to last the whole year. Bolo de mel can easily be preserved that long. In fact, the cake gets even more delicious with time. 
A BITE OF HONEY CAKE
Bolo de mel de cana is made of, surprise surprise, honey! Not regular honey though, it contains Madeiran sugar cane honey. This is a cake with very rich flavours. It's spicy, moist and sticky. We love it! Other ingredients of the cake are: cinnamon, anise, cloves, walnuts, almonds and orange zest.
HOW TO EAT BOLO DE MEL
Please leave the cutlery in the drawer! You don't cut this cake with a knife, but by hand. You just tear off a piece, and another, and another…..it's hard to stop once you had a bite. 
WHERE TO GET IT
This is a very important piece of information: don't buy it in the supermarket! During our first visit to Madeira, we saw this cake everywhere. When we encountered the cakes during our super market shopping, we decided to get one there. Big mistake! This cake was so solid and dry, we could have shattered a window with it. Not at all how this cake is supposed to be. Our conclusion was that we didn't care much for the bolo de mel de cana. Luckily for us, during our next visit to Madeira, a good friend offered us a piece of quality bolo de mel and we found out that this actually is a very tasteful cake!
Sociedade dos Engenhos da Calheta
Buy a bolo de mel at a quality bakery, or at a place specialized in bolo de mel. In Calheta, you'll find an old sugar cane factory 'Sociedade dos Engenhos da Calheta'. Next to the factory is a store, and this is where they sell the best bolo de mel de cana! You can also buy other sugar cane products here, like sugar cane rum and sugar cane honey.
Our advice: visit Calheta and buy a few bolo de mel here, so you can enjoy them during the rest of the year. The cake also makes a great souvenir for friends btw!